Now USB-C is the most popular high-speed and charging interface.
USB-A
The most common and familiar USB connector shape is USB Type-A, which is currently used on the majority of computer equipment and peripherals (although that is quickly changing). It is also used on many other devices, including those that utilize its Mini-A and Micro-A variants (see feature image above). Gaining popularity in the mid 90's, standard USB Type-A connectors are rectangular and have a distinct top and bottom. This requires them to be oriented properly in order to be plugged in.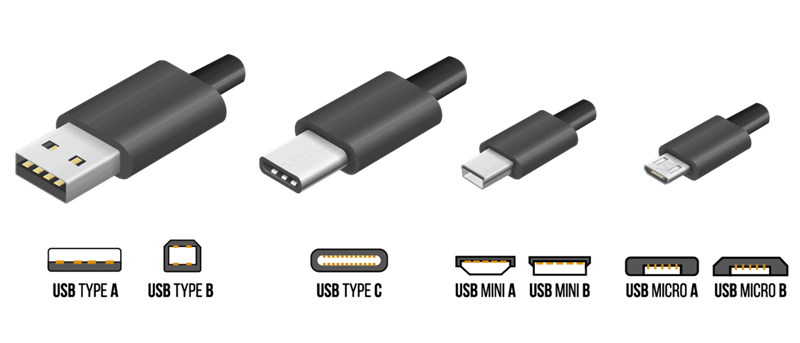 USB-B
The more square shaped USB Type-B is somewhat less common but is electrically identical to USB Type-A connectors. USB Type-B connectors are frequently used on printers, though they can also be found on some monitors and USB hubs. The Mini-B and Micro-B connectors, like their Type-A counterparts, are found on a wide range of electronics, from tablets and handheld GPS devices to cell phones.
Micro-USB
A micro USB is a miniaturized version of the Universal Serial Bus interface developed for connecting compact and mobile devices, such as smartphones, MP3 players, Global Positioning System devices, printers and digital cameras.
Micro USB connectors exist in four connector types: micro USB type A, micro USB type B, micro USB 2.0, and micro USB 3.0. Micro USB 3.0 is much like micro type B but with an additional pin group on the side for twice the wires, enabling USB 3.0's greater speed.
USB-C
USB-C refers to the physical shape of the newest USB connector. (The USB Type-C connector shouldn't be confused with the USB 3.1 or USB 3.2 standards.).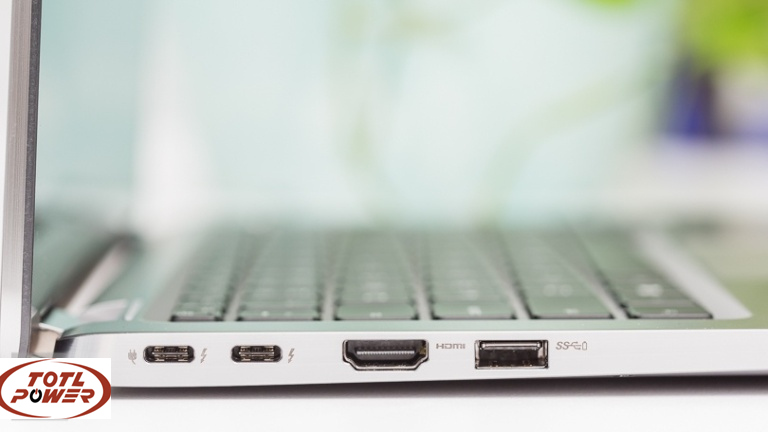 The USB Type-C connector is smaller than both Type-A and Type-B, oval-shaped, symmetrical, and reversible, meaning there is no "wrong way" to plug it in. This eliminates one of the most common complaints about USB Type-A. This newest USB connector is intended to replace the other existing USB form factors and provide a future-proof, fully-featured option for hardware designers to standardize on.
USB Type-C ports are becoming more and more common on mobile devices and consumer hardware. On the other hand, the industrial PC (IPC) market is just beginning to integrate USB Type-C ports into the latest generation of commercial devices.
Finally, we should note that while USB Type-A and USB Type-B have traditionally been written using the word "type" as shown, USB Type-C is increasingly being written as simply USB-C.
ONE plus dash cable vs OPPO vooc cable vs huwwei supercharge cable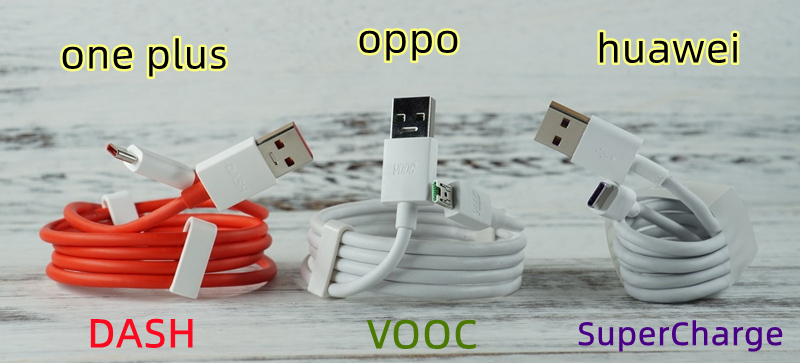 oppo 5A cable is like micro usb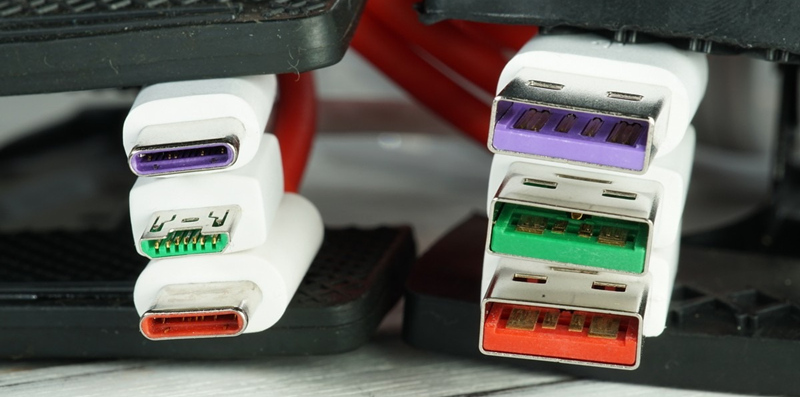 Huawei 5A cable is standard, without detect pin.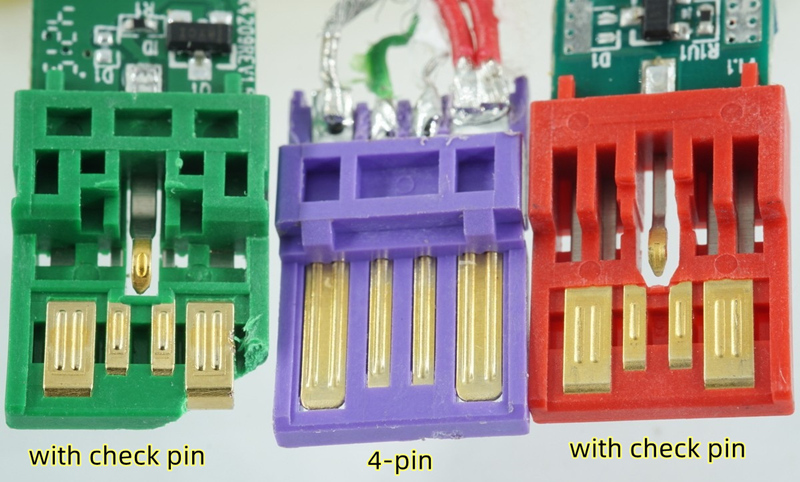 All cable is withou chips.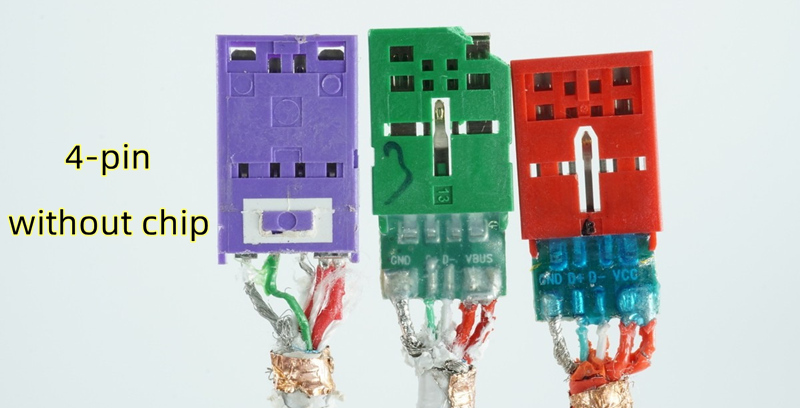 Only there is one mosfet to check pluging.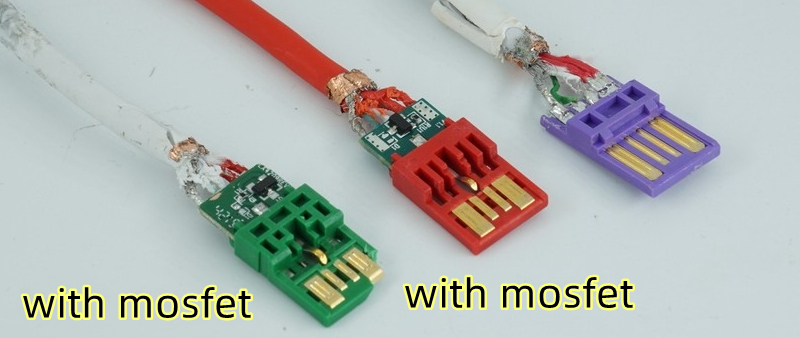 For type-c pcba, only one or two resistant to detecting pluging.
2pins for gnd, 2pins for vbus, d+, d-,cc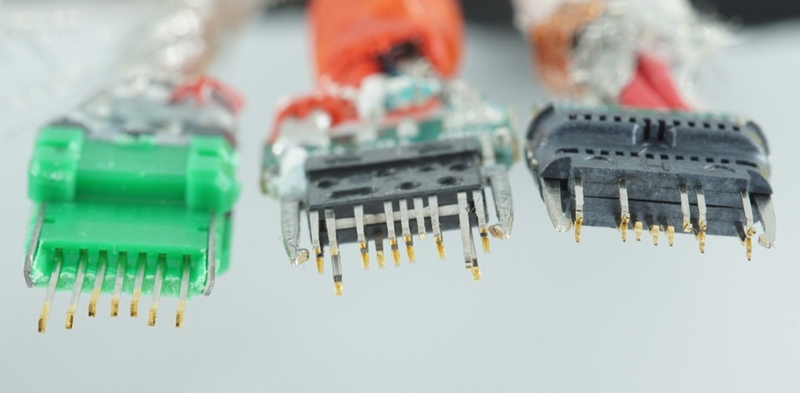 3types of 5A usb cable
USB-C to USB-C
phone with usb cUSB PD Cable with 6pins (vcc, gnd, d+, d-, cc, vconn)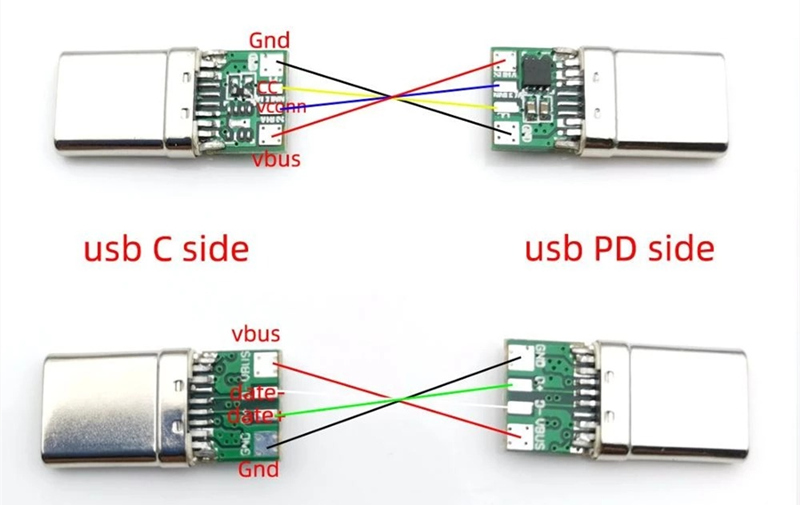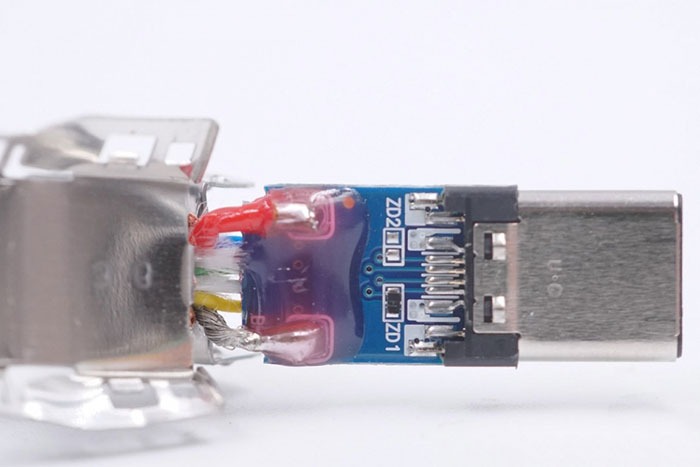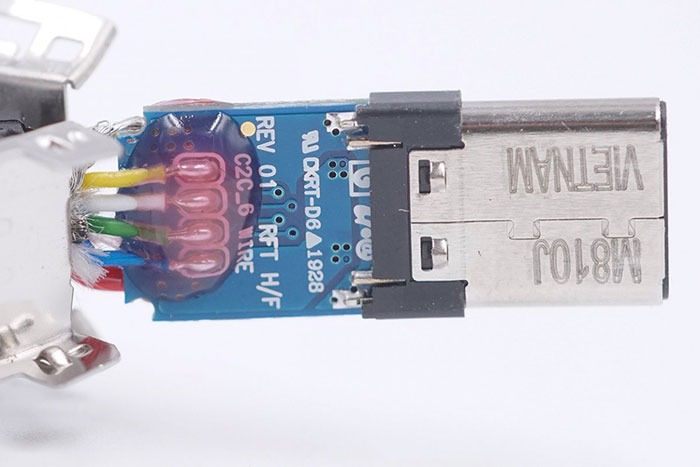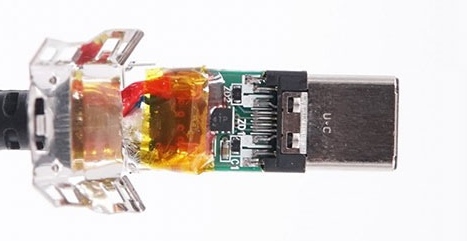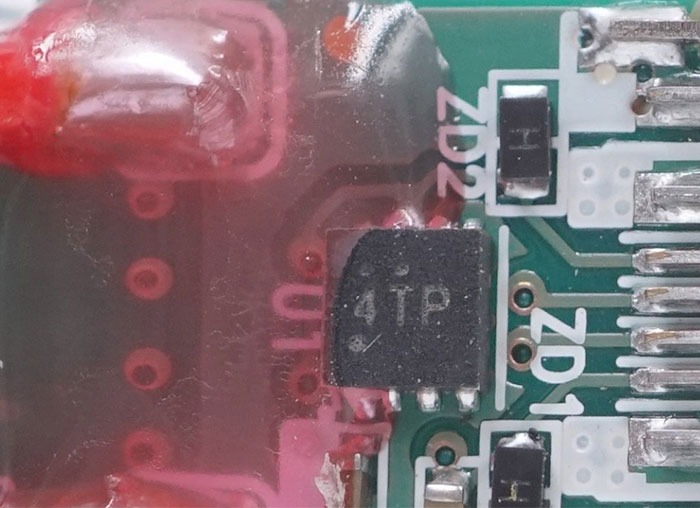 Refer to the USB2.0 Type-C Standard Cable Assembly Wiring, the google usb-c to usb-c cable don't exsit Vconn signal wire, the Vonn signal wire usually applied in usb-c to usb-c 2.0 100W cable with E-marker chip.
ANKER USB C TO USB C CABLE 100W
there is 5 connection pads on the pcb,GND,CC,D+,D-,Vbus, the Vbus used 2 wires to meet 5A current requirement.
There is a chip on the other end of the connector, without any resistors or capacitors.
enlarge the chip details, the chip printed "332 2025", This is a EMarker chip for USB Type-C Cables from Hynetek Semiconductor, product Model is HUSB332, support USB Type-C 1.4 and PD 3.0 compliant, USB-IF Certified. TID No.: 875, XID No.: 5400, widely used in USB2.0 cables, USB3.0 cables, USB3.1 cables,USB3.2 cables and Thunderbolt 3 40GB cables.
Hynetek HUSB332 Main Feature:
Got latest USB PD3.0 compliant, TID 875.
High integration, zero electronic component.
Support Thunderbolt 3 40Gbps data communication Support Get Manufacturer Info command.
Google USB-C to USB-C Cable
We use this usb-c cable to charge 13 inch Macbook pro, the current tester shows voltage 20.272V,current 2.5515A, power 51.724W, support USB PD charging.
The usb-c cable wiring diagram revealed after clear the white plastic, there are 5 pads on the pcb,GND,CC,D+,D-,VBUS, positive and negative both used a pair of power wire to meet 3A current request.
LG 60w type-c to type-c cable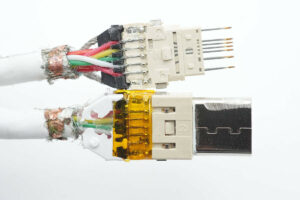 Apple USB-C to USB-C A2795
6pins (vcc, gnd, d+, d-, cc, vconn), without e-marker chips
Huawei 65w usb c to c cale 3.3A
6pins (red vcc, gnd, white+green d+, d-, yellow cc), without e-marker chips
---